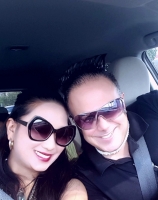 Hello my name is Michael Rodriguez and the girl you see next to me is my Beautiful Wife Jamila, we have two wonderful children Asia Milan and Israel Haven and if it's one thing we love to do is TRAVEL, living a Feng Shui lifestyle and taking the time to help others and give back. Always remember you are what you create and you become what you think about most. You are the Creator of your our own Destiny!
You have been referred by:

Michael Rodriguez m_rod72@hotmail.com 214-564-2040 If this is not the person who invited you, please contact the one who did.

Yes, text me updates and special announcements!
I Agree To These
Terms.
Your IP address is: 34.239.150.57
© Copyright 2021, Easy1Up.com. All Rights Reserved.