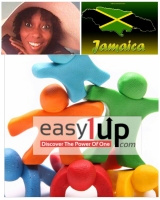 Hi I'm Marie V. Hall. Welcome! I'm Glad You've Decided To Start Your Home Based Business, Selling Digital Products! An Investment I'm Sure You Will Not Regret! With This Business You Will Definitely Say GOODBYE To Your Broke Days! Fill Out The Form And Select The Elevation Elite Level For $110 USD And Make Your Payment. Start Your Journey To Financial Freedom NOW! WhatsApp Me At 1876-781-1268 If You Have Any Questions Before Joining.
You have been referred by:

Marie V. Hall marie.shalome8@gmail.com 18767811268 If this is not the person who invited you, please contact the one who did.

Yes, text me updates and special announcements!
I Agree To These
Terms.
Your IP address is: 18.208.211.150